by Edgar Albert Guest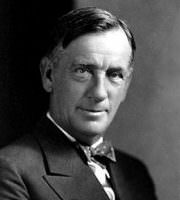 I freely confess there are good friends of mine,
With whom we are often invited to dine,
Who get on my nerves so that I cannot eat
Or stay with my usual ease in my seat;
For I know that if something should chance to occur
Which he may not like or which doesn't please her,
That we'll have to try to be pleasant somehow
While they stage a fine little family row.
Now a family row is a private affair,
And guests, I am certain, should never be there;
I have freely maintained that a man and his wife
Cannot always agree on their journey through life,
But they ought not to bicker and wrangle and shout
And show off their rage when their friends are about;
It takes all the joy from a party, I vow,
When some couple starts up a family row.
It's a difficult job to stay cool and polite
When your host and your hostess are staging a fight:
It's hard to talk sweet to a dame with a frown
Or smile at a man that you want to knock down.
You sit like a dummy and look far away,
But you just can't help hearing the harsh things they say.
It ruins the dinner, I'm telling you now,
When your host and your hostess get mixed in a row.
Last updated January 14, 2019