by Edgar Albert Guest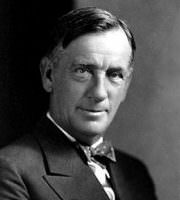 It's an easy world to live in if you choose to make it so;
You never need to suffer, save the griefs that all must know;
If you'll stay upon the level and will "do the best you can
You will never lack the friendship of a kindly fellow man.
Life's an easy road to travel if you'll only walk it straight;
There are many here to help you in your little bouts with fate;
When the clouds begin to gather and your hopes begin to fade,
If you've only toiled in honor you won't have to call for aid.
But if you've bartered friendship and the faith on which it rests
For a temporary winning; if you've cheated in the tests,
If with promises you've broken, you have chilled the hearts of men ;
It is vain to look for friendship for it will not come again.
Oh, the world is full of kindness, thronged with men who want to be
Of some service to their neighbors and they'll run to you or me
When we're needing their assistance if we've lived upon the square,
But they'll spurn us in our trouble if we've always been unfair.
It's an easy world to live in; all you really need to do
Is the decent thing and proper and then friends will flock to you;
But let dishonor trail you and some stormy day you'll find
To your heart's supremest sorrow that you've made the world unkind.
Last updated January 14, 2019