by Edgar Albert Guest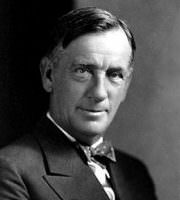 BEIN' uncle to the kids,
Laughin' lips an' drowsy lids
Grimy hands an' tattered clothes,
Cheeks as red as any rose;
Willie Browns an' Jimmy Whites,
Sarah Smiths an' Mabel Brights;
One an' all I 'm glad t' see,
Love t' hear 'em "uncle" me.
Want no child t' "mister" me,
Don't want no formality,
When a youngster's playin' round,
Uncle has a sweeter sound;
Seems there's somethin' in the name,
Takes your heart an' grips the same
In a way that makes you feel
Love is somethin' that is real.
Been their uncle now for years,
I have brushed away the tears
Of the little tots when they
Hurt themselves while at their play;
Nursed stone bruises. When they fell
Kissed the lumps t' make 'em well;
Seen 'em grow t' handsome men,
Uncle to their children then.
Ruther be an uncle than
Any other famous man;
Ruther have the children come
Blowin' horn an' beatin' drum
After me, when I go by,
Laughin' like a summer sky,
Than be great, an' miss the joys
Of the little girls an' boys.
Last updated January 14, 2019