by Edgar Albert Guest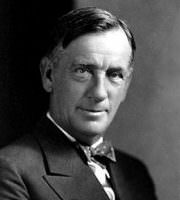 They've hung their stockings up with care,
And I am in my old arm chair,
And mother's busy dragging out
The parcels hidden all about.
Within a corner, gaunt to see,
There stands a barren Christmas tree,
But soon upon its branches green
A burst of splendor will be seen.
And when the busy tongues grow still,
That now are wagging with a will
Above me as I sit and rest,
I shall be at my happiest.
The greatest joy man can receive
Is being Dad on Christmas eve.
Soon I shall toil with tinsel bright;
Place here and there a colored light,
And wheresoe'er my fingers lie
To-morrow shall a youngster spy
Some wonder gift or magic toy,
To fill his little soul with joy.
The stockings on the mantle piece
I'll bulge with sweets, till every crease
That marks them now is stretched away.
There will be horns and drums to play
And dolls to love. For it's my task
To get for them the joys they ask.
What greater charm can fortune weave
Than being Dad on Christmas eve?
With all their pomp, great monarchs miss
The happiness of scenes like this.
Rich halls to-night are still and sad,
Because no little girl or lad
Shall wake upon the morn to find
The joys that love has left behind.
Oh, I have had my share of woe--
Known what it is to bear a blow--
Shed sorrow's tears and stood to care
When life seemed desolate and bare,
Yet here to-night I smile and say
Worth while was all that came my way.
For this one joy, all else I'd leave:
To be their Dad on Christmas eve.
Last updated January 14, 2019