by Edgar Albert Guest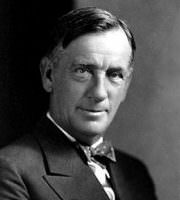 PROUD is the state of its millions of men,
And proud is the state of its name;
In its borders are masters of brush and of pen,
And wide as the world is its fame.
It stands for the best of the blood of the years,
Yet an eye for an eye is its way,
And there at the base of its progress appears
The chamber of murder today.
It has fashioned the visions of ages long gone,
What were dreams of the past now are real;
Its deserts and hills men have builded upon
Great structures of stone and of steel.
It is proud of its colleges, splendid and true,
Where its youth obtain learning and skill;
It has turned from the old to the glorious new,
But the death house is part of it still.
It boasts of its work in humanity's cause,
Of its churches with steeples and domes;
And proudly it tells of its numberless laws
That safeguard its millions of homes.
It has stretched out its hand to the child of the mill,
It has led him from labor to play;
Yet the chamber of death is a part of it still,
And some one must murder for pay.
Choking rabbi and priest mutter fear-stifled prayers
To the great God of mercy above
As the ominous footfalls are heard on the stairs,
And ask Him for mercy and love.
Oh, mockery! Asking the Master to show
Compassion, when ye of the state
Stand up and insist on a blow for a blow,
And murder in legalized hate!
Oh, mockery! Asking the good God to spare
This man on the brink of the grave,
That ye, as a state, by your actions declare
Ye haven't found worthy to save.
Ye have shaken the fetters of ages long gone,
Ye have risen in glory and gain;
How long must the God of us all look upon
The chamber of death ye maintain?
Last updated January 14, 2019