by Edgar Albert Guest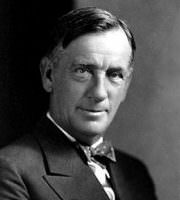 I follow a famous father,
His honor is mine to wear;
He gave me a name that was free from shame,
A name he was proud to bear.
He lived in the morning sunlight,
And marched in the ranks of right.
He was always true to the best he knew
And the shield that he wore was bright.
I follow a famous father,
And never a day goes by
But I feel that he looks down to me
To carry his standard high.
He stood to the sternest trials
As only a brave man can;
Though the way be long, I must never wrong
The name of so good a man.
I follow a famous father,
Not known to the printed page,
Nor written down in the world's renown
As a prince of his little age.
But never a stain attached to him
And never he stooped to shame;
He was bold and brave and to me he gave
The pride of an honest name.
I follow a famous father,
And him I must keep in mind;
Though his form is gone, I must carry on
The name that he left behind.
It was mine on the day he gave it,
It shone as a monarch's crown,
And as fair to see as it came to me
It must be when I pass it down.
Last updated January 14, 2019