by Edgar Albert Guest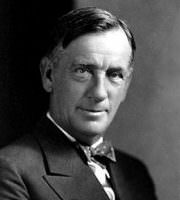 WHAT is food for, anyway?
Just to keep us through the day
Warm and strong and satisfy
Hunger, whether bread or pie,
Terrapin or chuck steak tough;
When a man has had enough,
What's it matter, anyway?
He can live and toil away.
Sigh you not for richer fare,
Bread and meat, with some to spare,
That is all the system needs,
That gives strength for noble deeds,
And the rich man, if you please,
Gets no more from luxuries.
What are clothes for, anyway?
Just to keep the wind at bay,
And to hide our nakedness.
Fine or homespun be your dress,
That is all that clothes can do,
They won't help nor hinder you;
Men in torn and tattered rags
Oft have borne their country's flags
Through the battle fire, and come
Back unto the sound of drum
Heroes, by the world extolled;
Be your garment new or old,
Still fight on with purpose true,
Finer dress can't conquer you.
What is drink for, anyway?
Just to quench your thirst by day;
Here is water, drink your fill,
It will leave you clear-eyed still;
It will moisten lips now parched,
Though ten thousand miles you've marched,
Sparkling burgundy or wine,
Or the juice of any vine
Poured into a crystal cup
Will not better bear you up,
Will not better quench your thirst,
Better fit you for the worst;
Rich or poor, man cannot think
Of or buy a better drink.
Last updated January 14, 2019