by Edgar Albert Guest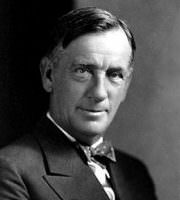 Look back three hundred years and more:
A group upon a rock-bound shore,
Borne by the Mayflower o'er the sea,
Pledged hearts and lives to liberty.
They were the few we hail with pride
Singing: "Land where our fathers died,"
Daring to die that this might be
Forever: "Land of the noble free."
At Plymouth Rock they could not know
How far their shadows then would go,
That freedom (as today we sing)
From every mountainside should ring.
"Our Fathers' God to Thee" I pray
That we, devoted as were they,
Who sing: "Long may our land be bright"
Shall cherish: "Freedom's holy light."
Last updated January 14, 2019