by Edgar Albert Guest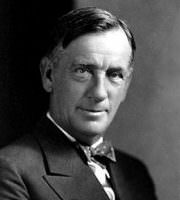 If he sunbeams will not start you to rejoicing,
If the laughter of your babies you can hear
Without little songs of gladness gayly voicing,
If their dancing doesn't drive away your tear;
If you don't find happiness where they are playing,
If they do not make your pathways bright and sunny,
Then gladness from your heart has gone a-straying
And you won't be any happier with money.
If the blue skies bending over you don't thrill you,
If the roses just a-bursting into bloom
With a sense of perfect pleasure do not fill you,
If the song birds do not chase away your gloom;
If you cannot find contentment in your cottage
Then your heart for joy has not become a chalice,
If you cannot, smiling, eat your simple pottage,
Then you'd not be any happier in a palace.
If a troop of healthy, laughing boys and lassies
Doesn't strike you as a reason to rejoice;
If the glories of the earth, when winter passes,
You behold and still retain a whining voice;
If it doesn't rouse your spirits to go fishing,
Then your heart is but a cupboard for despair,
And for money all in vain today you're wishing,
You'd make a most unhappy millionaire.
Last updated January 14, 2019