by Edgar Albert Guest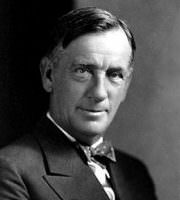 He will not come to him this year with all his old-time joy,
An imitation Santa Claus must serve his little boy;
Last year he heard the reindeers paw the roof above his head,
And as he dreamed the kindly saint tip-toed about his bed,
But Christmas Eve he will not come by any happy chance;
This year his kindly Santa Claus must guard a trench in France.
His mother bravely tries to smile; last Christmas Eve was gay;
Last Christmas morn his daddy rose at dawn with him to play;
This year he'll hang his stocking by the chimney, but the hands
That filled it with the joys he craved now serve in foreign lands.
He is too young to understand his mother's troubled glance,
But he that was his Santa Claus is in a trench in France.
Somewhere in France this Christmas Eve a soldier brave will be,
And all that night in fancy he will trim a Christmas tree;
And all that night he'll live again the joys that once he had
When he was good St. Nicholas unto a certain lad.
And he will wonder if his boy, by any sad mischance,
Will find his stocking empty just because he serves in France.
Last updated January 14, 2019