by Edgar Albert Guest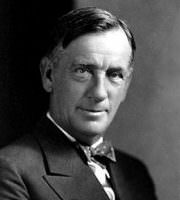 If I had youth I'd bid the world to try me;
I'd answer every challenge to my will.
And though the silent mountains should defy me,
I'd try to make them subject to my skill.
I'd keep my dreams and follow where they led me;
I'd glory in the hazards which abound.
I'd eat the simple fare privations fed me,
And gladly make my couch upon the ground.
If I had youth I'd ask no odds of distance,
Nor wish to tread the known and level ways.
I'd want to meet and master strong resistance,
And in a worth-while struggle spend my days.
I'd seek the task which calls for full endeavor;
I'd feel the thrill of battle in my veins.
I'd bear my burden gallantly, and never
Desert the hills to walk on common plains.
If I had youth no thought of failure lurking
Beyond to-morrow's dawn should fright my soul.
Let failure strike--it still should find me working
With faith that I should some day reach my goal.
I'd dice with danger--aye!--and glory in it;
I'd make high stakes the purpose of my throw.
I'd risk for much, and should I fail to win it,
I would not ever whimper at the blow.
If I had youth no chains of fear should bind me;
I'd brave the heights which older men must shun.
I'd leave the well-worn lanes of life behind me,
And seek to do what men have never done.
Rich prizes wait for those who do not waver;
The world needs men to battle for the truth.
It calls each hour for stronger hearts and braver.
This is the age for those who still have youth!
Last updated January 14, 2019