by Edgar Albert Guest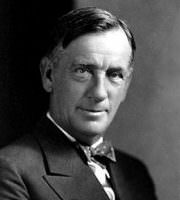 IF only I were Santa Claus I 'd travel east and west
To every hovel where there lies a little child at rest;
I'd drive my reindeer over roofs they'd never trod before,
I 'd seek the tenements where sleep the babies on the floor,
Where rags are stuffed in broken panes to keep the wind away,
And where a warm and cozy room is never known today;
For even there I know I 'd find hung up the stockings small
As signs that they expected me on Christmas Eve to call.
If only I were Santa Claus I 'd pass the mansions, by
And seek the cold and cheerless homes where palefaced youngsters lie;
And as they slept I 'd pause a while and bending low, I 'd kiss
The lips of every little tot - not one of them I 'd miss;
And then I 'd fill their stockings full of toys and sugar plums,
And leave them sleighs and skates and dolls and Teddy bears and drums.
I would not pass a cottage by, but I would try to be
A Santa Claus to every tot who still has faith in me.
If only I were Santa Claus - I 'd make the mothers glad,
The dear, hard-working mothers who at Christmas time are sad;
The kind and patient mothers who rock their babes to sleep,
And through the lonely hours of night sob bitterly and weep.
They see their precious little ones half clad and hungry, too,
Knowing the sorrow that must come to them when night is through;
To every mother's face I 'd bring the smiles once more, and we
Would spend a while together at her babies' Christmas tree.
Last updated January 14, 2019