by Edgar Albert Guest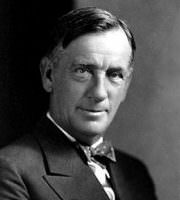 Sunshine and shadow and laughter and tears,
These are forever the paints of the years,
Splashed on the canvas of life day by day,
We are the artists, the colors are they.
We are the painters, the pigments we use
Never we're wholly permitted to chose.
Grief with its gray tint and joy with its red
Come from life's tubes to be blended and spread.
Here at the easel, the brushes at hand,
Each for a time is permitted to stand.
White was the canvas when first we began,
Ready to picture the life of a man.
Now we ar splashing the pigments about,
Knowing the reds and blues must give out,
Soon we must turn to the dull hues and gray,
Painting the sorrows that darken the way.
Now with the sunshine and now with the shade
Slowly but surely the picture is made.
Even the gray tints with beauty may glow
Recalling the joy of the lost long ago.
Let me not daub it with doubt and despair,
Deeds that are hasty, unkind and unfair,
But when the last bit of pigment is dried
Let me look back at my canvas with pride.
Last updated January 14, 2019