by Edgar Albert Guest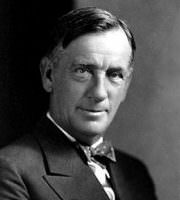 The saddest sort of death to die
Would be to quit the game called life
And know, beneath the gentle sky,
You'd lived a slacker in the strife.
That nothing men on earth would find
To mark the spot that you had filled;
That you must go and leave behind
No patch of soil your hands had tilled.
I know no greater shame than this:
To feel that yours were empty years;
That after death no man would miss
Your presence in this vale of tears;
That you had breathed the fragrant air
And sat by kindly fires that burn,
And in earth's riches had a share
But gave no labor in return.
Yet some men die this way, nor care:
They enter and they leave life's door
And at the end, their record's bare-
The world's no better than before.
A few false tears are shed, and then,
In busy service, they're forgot.
We have no time to mourn for men
Who lived on earth but served it not.
A man in perfect peace to die
Must leave some mark of toil behind,
Some building towering to the sky,
Some symbol that his heart was kind,
Some roadway where strange feet may tread
That out of gratitude he made;
He cannot bravely look ahead
Unless his debt to life is paid.
Last updated January 14, 2019