by Edgar Albert Guest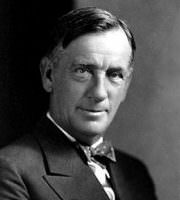 LITTLE Miss Laugh-a-Lot,
Saucy the way you've got,
Dancing with glee are the bright eyes of you;
Lips like the red, red rose,
Cunning, your little nose,
Cheeks like the summer peach sparkling with dew;
Mischievous romping tot,
Little Miss Laugh-a-Lot,
Over this heart of mine you've worked a spell,
You've got me, heart and soul,
Under your sly control,
In that glad smile of yours all my joys dwell.
Little Miss Laugh-a-Lot,
Merry the way you've got,
What you say goes with your battered old dad.
Kings, in their pompous way,
Hold no such magic sway
Over their subjects, as you've always had;
Your word is law with me,
Your throne, you've made my knee,
Empress, you rule me by night and by day.
By you I'm always swayed,
Your commands I've obeyed,
Always I'm ready when you bid me play.
Little Miss Laugh-a-Lot,
Roguish the ways you've got,
Sly are the tricks that you play on your dad,
Wheedling and coaxing him,
Fooling and hoaxing him,
Forcing this grizzly old bear to be glad.
Life holds no sweeter bliss
Than your caress and kiss,
Earth has no beauty so rare as your smile,
While I have you to love,
You to be servant of,
Nothing else matters, this world is worth while.
Last updated January 14, 2019