by Edgar Albert Guest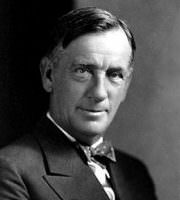 I'm standing at my lathe all day
And this is what I hear it say:
"The best of you, the best of me
Are needed now across the sea.
We do not hear the cannon roar,
No aeroplane comes sailing o'er
Our heads, and yet from day to day
We two are soldiers in the fray.
"Oh, hand that guides me now, be true,
A mighty task is mine to do.
'Tis time to shape and cut the steel,
With every turning of my wheel.
I'm building for that better day
When tyranny shall pass away.
Speed up! Speed up! This thing I make
May save a thousand lives at stake."
I whisper to my lathe: "Be strong,
We toil today to right a wrong.
Some of us march 10 fife and drum.
My music is your busy hum,
And this the hymn you sing to me,
Always. 'My Country 'Tis of Thee.'
This very day, this very hour
We'll serve the flag with all our power.
"Oh lathe of mine, across the sea
They need the work of you and me!
They will be fine if we be true,
They'll hold the line, if we but do
This task that now to us is set,
Let's keep the faith and not forget!
Speed up! Speed up! Across the sea
Our soldiers wait on you and me"
Last updated January 14, 2019