by Edgar Albert Guest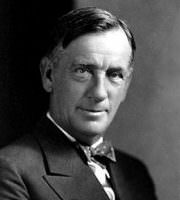 When I'm weary of argument wordy
And tired of continuous debate,
When the speaker like some hurdy gurdy,
Which carries on early and late,
Keeps up a monotonous bellow
On lessons I don't want to learn,
'Tis then I give cheers for the fellow
Who rises and moves to adjourn.
There are motions to lay on the table,
There are motions for this and for that,
And I stick just as long as I'm able
And hark to the chatterer's chat,
I stand for the rising thanks motion
For the one who has done a good turn,
But my friend is the chap with the notion
To get up and move to adjourn.
There are some who like papers and speeches,
And open discussions of things,
The heights some new orator reaches,
The lesson and message he brings.
But each his own fancy must cling to,
What one chooses others may spurn,
So this simple tribute I sing to
The brother who moves to adjourn!
Last updated January 14, 2019