by Edgar Albert Guest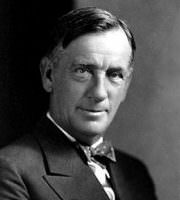 I notice when the news comes in
Of one who's claimed eternal glory,
This simple phrase, "the next of kin,"
Concludes the soldier's final story.
This tells the world what voice will choke,
What heart that bit of shrapnel broke,
What father or what mother brave
Will think of Flanders as a grave.
"The next of kin," the cable cold
Wastes not a precious word in telling,
Yet cannot you and I behold
The sorrow in some humble dwelling,
And cannot you and I perceive
The brave yet lonely mother grieve
And picture, when that news comes in,
The anguish of "the next of kin?"
For every boy in uniform,
Another soldier brave is fighting;
A double rank the cannons storm,
Two lines the cables are uniting,
And with the hurt each soldier feels,
At home the other warrior reels;
Two suffer, freedom's cause to win:
The soldier and "the next of kin."
Oh, next of kin, be brave, be strong,
As brave as was the boy that's missing;
The years will many be and long
That you will hunger for his kissing.
Yet he enlisted you with him
To share war's bitter price and grim;
Your service runs through many years
Because your name with his appears.
Last updated January 14, 2019