by Edgar Albert Guest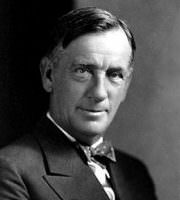 No use frettin' when the rain comes down,
No use grievin' when the gray clouds frown,
No use sighin' when the wind blows strong,
No use wailin' when the world's all wrong;
Only thing that a man can do
Is work an' wait till the sky gets blue.
No use mopin' when you lose the game,
No use sobbin' if you're free from shame,
No use cryin' when the harm is done,
Just keep on tryin' an' workin' on;
Only thing for a man to do,
Is take the loss an' begin anew.
No use weepin' when the milk is spilled,
No use growlin' when your hopes are killed,
No use kickin' when the lightnin' strikes
Or the floods come along an' wreck your dykes;
Only thing for a man right then
Is to grit his teeth an' start again.
For it's how life is an' the way things are
That you've got to face if you travel far;
An' the storms will come an' the failures, too,
An' plans go wrong spite of all you do;
An' the only thing that will help you win,
Is the grit of a man and a stern set chin.
Last updated January 14, 2019