by Edgar Albert Guest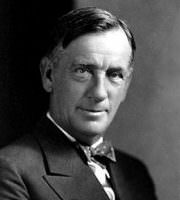 To-day it's dirt and dust and steam,
To-morrow it will be the same,
And through it all the soul must dream
And try to play a manly game;
Dirt, dust and steam and harsh commands,
Yet many a soft hand passes by
And only thinks he understands
The purpose of my task and why.
I've seen men shudder just to see
Me standing at this lathe of mine,
And knew somehow they pitied me,
But I have never made a whine;
For out of all this dirt and dust
And clang and clamor day by day,
Beyond toil's everlasting "must,"
I see my little ones at play.
The hissing steam would drive me mad
If hissing steam was all I heard;
But there's a boy who calls me dad
Who daily keeps my courage spurred;
And there's a little girl who waits
Each night for all that I may bring,
And I'm the guardian of their fates,
Which makes this job a wholesome thing.
Beyond the dust and dirt and steam
I see a college where he'll go;
And when I shall fulfill my dream,
More than his father he will know;
And she shall be a woman fair,
Fit for the world to love and trust-
I'll give my land a glorious pair
Out of this place of dirt and dust.
Last updated January 14, 2019