by Edgar Albert Guest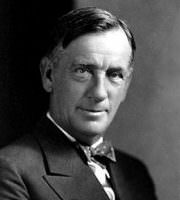 COME here to me, little lassie of three,
And get in your place on your old daddy's knee,
Put those chubby arms round where they nightly belong
And cling to my neck, for the day has gone wrong
And I need you, I need you to scatter away
All the cares and the griefs of a troublesome day.
Let's sing the old songs and the old lullabies
Till the light of joy burns once again in my eyes;
Let's ride up to London at doublefast trot
Till all of my worries and cares are forgot;
Let's romp on the floor and make merry tonight,
For you, little girl, can put everything right.
You tickle my ribs and I'll tickle your toes,
You tug at my beard and I'll tug at your nose,
I'll blow down your neck and you blow down mine,
Then we'll ride pig-a-back and do everything fine;
And the first thing I know I'll be gay and care-free,
Come, little lassie, climb onto my knee.
I was cross, I was mean, through the heat of the day,
I gave up to despair as my plans went astray;
But it's all over now, and I want to forget
The troubles that caused me to worry and fret.
And you are my sunshine, my source of delight,
So come to your dad and make everything right!
Last updated January 14, 2019