by Eliza Acton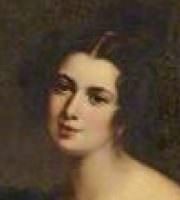 "Thou sleepest!-but we do not forget thee!"
I parted from thee, when the glow
Of health, was warm upon thy cheek;
When thy light laugh, and smiling brow,
Of happiest feelings seem'd to speak.
I little deem'd ere next we met,
That form would cold and lifeless be;-
That ev'ry hope so soon would set,
Which long had fondly turn'd to thee.
But, oh! when Death's destroying pow'r
Had o'er thee cast its icy chain,
I saw thee, like a faded flow'r,
Laid,-ne'er to bloom on earth again.
Affection's warmly-cherish'd child,
Thou wert all unprepared to meet
The world's rude storms-which, darkly wild,
Our purest schemes of bliss defeat.
True thou wert motherless !-but heav'n
Most richly that deep loss supplied,
And tend'rest friends to thee were giv'n,
Thy youthful steps to guard, and guide.
Here, where thy playfulness oft drew
Responsive mirth from all around,
And its gay influence o'er us threw,
Long shall thy memory fresh be found.
Each hour in passing, to the heart
Brings some appealing thought of thee:
And tears of keen regret will start
O'er thy fate's sad reality.
Yet, though we sorrowing weep thy doom,
We know, that far most greatly blest
Are those, who earliest, through the tomb,
Ascend to God's eternal rest!
Last updated January 14, 2019