by Eliza Acton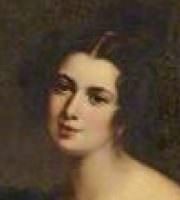 Nay twine the heath-flow'r wild for me,
It best will suit my blighted lot;
For I am flung neglectedly
Abroad, where fostering love is not-
And Roses on my aching brow,
Too soon would lose their blushing glow;
While on my throbbing bosom laid,
The lily's bloom in death would fade!
Enwreath the folds of Beauty's hair
With the white Jas'mine stars :-their snow
Will gleam in purer seeming there,
And grace on loveliness bestow-
Their delicate, frail, life will be
Breath'd forth in sweet luxuriancy,
On the rich tresses, where they lie
Embalm'd, in their own od'rous sigh!
To the young seraph Hope, be giv'n,
In homage to her soft eyes hue,
The violet-buds, which stole from heav'n,
Its matchless depth of star-light blue.
Entwine,-the lyre of song to shade,-
The scented myrtle's shining braid!
But weave for me, that flow'r alone,
In wildness on the desert thrown!
Last updated January 14, 2019