by Eliza Acton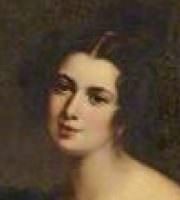 When in far-future years thy bright glance shall be resting,
On the line of remembrance my pen hath impress'd,
Oh! may it, the past in bright colours investing,
Awaken one wandering thought in thy breast,
Of those moments, which, hallow'd by friendship, and feeling,
Still live in my heart, though they long have pass'd by;
But their memory comes like some sweet spirit, stealing
In silence to earth from the regions on high.
How often thy voice, in its soul-thrilling measure,
Hath awaken'd emotions I may not forget;
Emotions of calm, and of unalloy'd pleasure;
Which faithfully cling to my memory yet!
Fare thee well!-I will hope that to thee may be giv'n
The most thornless and beautiful blossoms of earth;
And that brighter, by far, may await thee in heav'n,
The last home of gentleness, virtue, and worth!
Last updated January 14, 2019