by Eugene Field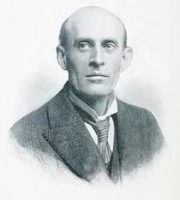 In maudlin spite let Thracians fight
Above their bowls of liquor;
But such as we, when on a spree,
Should never brawl and bicker!
These angry words and clashing swords
Are quite _de trop_, I'm thinking;
Brace up, my boys, and hush your noise,
And drown your wrath in drinking.
Aha, 't is fine,--this mellow wine
With which our host would dope us!
Now let us hear what pretty dear
Entangles him of Opus.
I see you blush,--nay, comrades, hush!
Come, friend, though they despise you,
Tell me the name of that fair dame,--
Perchance I may advise you.
O wretched youth! and is it truth
You love that fickle lady?
I, doting dunce, courted her once;
Since when, she's reckoned shady!
Last updated January 14, 2019