by Mirza Ghalib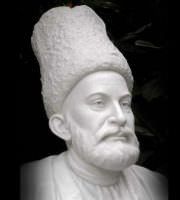 dil-e-naadaa.N tujhe huaa kyaa hai
aaKhir is dard kii davaa kyaa hai
ham hai.n mushtaaq aur vo bezaar
yaa ilaahii ye maajaraa kyaa hai
mai.n bhii muu.Nh me.n zabaan rakhataa huu.N
kaash puuchho ki muddaa kyaa hai
jab ki tujh bin nahii.n koii maujuud
phir ye ha.ngaamaa, ai Khudaa kyaa hai
hamako unase vafaa kii hai ummiid
jo nahii.n jaanate vafaa kyaa hai
TRANSLATION-
Innocent heart, what has happened to you?
Alas, what is the cure to this pain?
We are interested, and they are displeased,
Oh Lord, what is this affair?
I too possess a tongue-
just ask me what I want to say.
Though there is none present without you,
then oh God, what is this noise about?
I expected faith from those
who do not even know what faith is.
Last updated January 14, 2019