by Graham Rowlands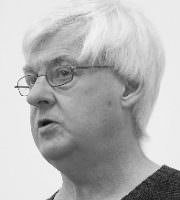 there
in white paint
by some strokes of genius
not sprayed onto the round
sandstone rollers around 1900.
Bullshit! But how can you prove it
with lead paint & brushes &
tonnes of pebble asteroids
bouncing to a standstill
in the sacred spaces
all over the
colonies &
you not even born yet?
FUCK, FUCK, FUCK FEDERATION
FUCK, FUCK, FUCK FEDERATION
(like HO, HO, HO CHI MINH)---
the chant of Jimmie Governor's enemies
like the slave Nat Turner missing out on the Presidency
because of Chappaquiddick.
Jimmie's white wife
would have looked out of place
in a miniskirt
but
when you see
Jimmie pigeon-toed
in the throes of that knee-trembler
tangled in metres of gathered cotton bell or delta
it makes you wonder & worry about
revenge (as you giggle)
but unlike young Nat who only got the Holy Ghost
young Jimmie got the axe in too---
even if the placenta split
on all white child
bitch.
After all those women & children first
to wallpaper their walls with their own
blood off a black trigger
& now it's impossible to remember
the last time anyone miscegenated
or sexual intercoursed
it's FUCKing reassuring
to know FUCKing politics
still packs a FUCKing punch.
Last updated January 14, 2019