by Henry Alford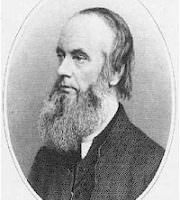 I stand upon the margin of our level lake;
The daylight from the west is fading fast away;
The rooks above the wood their evening concert make,
And in the gleaming pool the fishes leap and play.
Eastward, appearing dimly through the golden haze,
The Moon in perfect circle lifts her solemn light;
The waters tremble ever with a restless blaze,
With ripples and wood--shadows dappled dark and bright.
Why is my deathless spirit bound to minister
To transient matter? fettered to this vision fair,
I seem to lose all breath, no thought hath power to stir:
Ye take too much upon you, sights of earth and air!
Is it some purpose high of fête or festival
For Beings never pierced by edge of mortal sight;
And are there poured around me, camping within call,
A beautiful throng of Angels triumphing in delight?
Is it for some pure Spirits torn on earth asunder,
Who long, long years have pined in solitude and woe,
To meet together here, and speak their love and wonder,
And feast on joy that none but risen souls can know?
Might I but reach the secret of that hidden power
That dwells in the mute children of our parent Earth,
The magic that can bind together in one hour
Contented joy, and yearnings for our mightier birth!
Last updated January 12, 2019