by Hugh McCulloch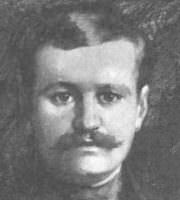 i AIN would I journey from these barren lands
Where I was bom, unto the magic isles
Of tropic seas, where Winter kindlier smiles
Than doth the Summer of our northern strands.
And I would wander on the golden sands
Of tropic rivers reaching miles and miles
Thro* orchid-bowers where the sun beguiles
Our hearts with scattered gifts from lavish hands.
Then Homer to the Old World carries me
In hollow ships across the crested main ;
And Chaucer shows each April-haunted lane
Of England. Spenser gives enchanted sea,
His summer woods and purple pageantry,
While Dante guides me through the world of pain.
Last updated August 24, 2017