by Irwin Russell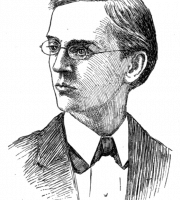 Young Julius Jones loved Susan Slade;
And olt, in dulcet tones,
He vainly had besought the maid
To take the name of Jones.
"Wert thou but solid, then, be sure,
'Twould be all right," said she,
"But, Mr. J., whilst thou art poor
Pray think no more of me."
Poor Jones was sad; his coat was bad;
His salary was worse;
But hope suggested: "Jones, my lad,
Just try the power of verse."
He sat him down and wrote in rhyme
How she was in her spring,
And he in summer's golden prime—
And all that sort of thing.
The poem praised her hair and eyes,
Her lips, with honey laden.
He wound it up—up in the skies—
And mailed it to the maiden.
She read it over, kept it clean,
Put on her finest raiment,
And took it to a magazine
And got ten dollars payment.
Last updated January 14, 2019