by Irwin Russell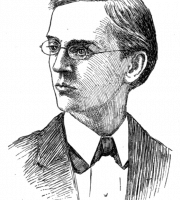 Death seizeth not the soul;
When life is past control—
No power left to hold it,
When we have lost or sold it—
Why care we for the loss of lives
Of suffering and sinning,
Well knowing that, for what survives,
A life is just beginning?
So, when our day arrives,
Why cling we to our lives?
Though they be clean and fair,
Or stained with sin and care,
The bargain cannot be adverse;
An old life for a new one;
Death cannot make a false soul worse,
Or ever change a true one.
Last updated January 14, 2019