by James McAuley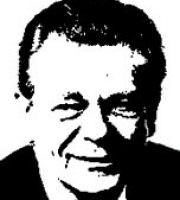 The light was out; the sky was down;
Night walked in a black-bellied gown
Where for a season I found room,
A discontent within a shade
A clot of treason that betrayed
The dark instinctive gnosis of the womb.
I rose up in my infant might
And blinked upon the monstrous light
Repenting the lost fluid gloom:
The dawn was red and streaked with pain,
Dark Eden would not come again
In sleep or lover's tantrums or the tomb.
In midnight hours when quiet breath
Catches upon some rib of death
Some polished bone of memory;
When nightmare breathes upon the mind
As on a glass and peers behind
With mad and watchful eyes, malevolently;
When in the sexual night descended
The spirit quivers undefended
At the quick of human mystery;
When a woman's hair is a bush of pain
And the heart is a blind man in the rain
That nightlong sings of what it cannot see:
How then the blood in sightless grope
Seeks vainly for that Eden slope
And far declivity of doom;
Nor ever now is felt or heard
The murmur of sweet bones interred
The distant heart-beat pumping in the gloom.
From:
Collected Poems 1936-1970
Last updated January 14, 2019