by James McAuley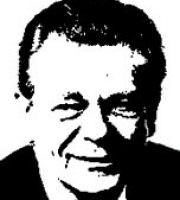 Lust has its own country still
In which all lovers long to lie,
A land where each green-breasted hill
Touches the blue ecstatic sky
And the writhing limbs of trees
Are like our smiling energies.
The streams by natural alchemy
Transmute to laughter the rude shock
And thunder of the enormous sea;
And close as limpets to the rock
Our clinging bodies at their ease
Explore love's charming idiocies.
Delighted pleasure sinks to rest,
Then rises smiling, debonair,
To kiss each pouted lip and breast.
Then Vega charms the tumbling air;
For seated at bright Lyra's strings
She sings unmentionable things.
In country cabins, richly poor,
Where golden-headed wattle stands
Like an Apollo at the door
We make our lodging, and with hands
Inured to honest lovers' toil
We cultivate our living soil.
From:
Collected Poems 1936-1970
Last updated January 14, 2019