by John Vance Cheney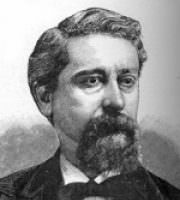 Ho, hermit of the cellar wall,
If you are coming out at all,
Come now; in thirty minutes more
The rain will trickle down your door.
Come, come; hurrah, there, bachelor lump!
Betwixt a waddle and a jump,
Judge-like ascend your own toad-stool,
Worked out last night by wizard's tool.
Ha, there you are, sedate as ever;
Prodigious plain, but passing clever.
The years are twenty to a day
Since you and I first sat this way;
How many more think you to squat,
Contented, on our pleasant spot?
Be frank with me, you wily monk,
Impervious, solemn, clumsy chunk!
What mischief are you plotting, now,
Squaring about sou'west by sou'?
A weather-cock, with half the pains,
Can nose precise a dozen rains.
Be seated. Crony, it is cold
Way down there in your stony hold.
Those dungeon vapors — don't you think
They make the spirit sort of sink,
Partic'larly when stingy fate
Too long withholds the cheery mate?
Let go in peace that fiftieth fly;
Another morsel, and you die!
With your last testament unsigned,
How dare you gorge yourself stone-blind?
A risky situation that
When toads are twenty-odd and fat.
Feel nervous, fellow? Pshaw! lean back,
And from your buff aldermanic sack
Puff out the truth for once and all:
Your mind's made up to wed, this fall.
Your hand! one lone toad in the wall,
Is a wart heap, no toad at all.
There! don't repeat that deaconish wink;
I know exactly what you think.
Somebody (not far off) has had
His little frolics, good and bad,
His salad antics; dare he vow
He is well over 'em? How's that — how?
Warm evenings, just outside the walk,
Those cooings by the cabbage stalk!
Droll chap, I grant you are old and fat,
And may have nieces and all that;
But when with her you claim relation,
Blood ties remotest in creation —
Monstrous! Old chap, it would n't go down
Though backed by every toad in town.
Sit still, no offence; I can't help joking,
The moment I see that stub-nose poking
Into the light. You take a mate —
Prepost'rous! Certainly; too late.
At your age, better a hangman's halter
Than the kind one is led with to the altar.
Heaven spare the storm that we can't weather,
We two old jovies, here together.
Heigh-ho, the gentle, misty rain
Is coming down the hill again.
Did you perceive just what was meant
'Bout that last will and testament?
Grave Bachelor Batrachian, pray,
What sense in sidling off that way?
Ridiculous old rogue! Turn round;
You will soon enough be underground.
No other eyes see well as mine
How bright your inner riches shine;
Long may they live when you are dead:
Leave me the jewel in your head.
Last updated September 07, 2017