by John Vance Cheney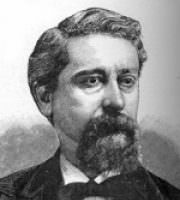 Daylong a craven cry goes up:
"The people drink a bitter cup,
They languish, gathering stones for bread,
Brave faith is fallen, the old hope dead."
The babblers will not cease:
"The people have no peace."
Trust is outworn, naught can be done,
There is no good under the sun,
The blue sky fades, the waters fail,
The strong hand shakes, the warriors wail;
Daylong the craven cry,
"The people faint, they die."
Turn to the wall our faces, we
That vanquish air and earth and sea!
The sun shines yonder; somewhere glows
The old first hope, bright as it rose,
The hope whose accent high
Shall brand this whining lie.
If doubts, risen idols of the Nile,
Again the hallowed land defile,
Thunder yet clothes green Horeb's crown;
Let Sinai speak, and smite them down.
Life nests yet in the clod,
Israel has still his God.
You, seers and prophets, poets, may
See yet the good gold in the day.
Still red at heart, arise, arise!
Sing back the blue into the skies,
The green into the grass,
And bid the phantoms pass.
Once more, blest messengers, declare
That love still lives, that life is fair;
Say knowledge knows not, trust is all,
And crush these wise which writhe and crawl;
Wake, wake, your strains of fire!
God's for us—strike the lyre!
Last updated September 07, 2017