by John Vance Cheney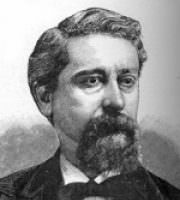 I
Pure spirit, pure and strangely beautiful,
What body fled'st thou? Where in all this dull,
Unlovely world was there such loveliness
That thou couldst wear it for thy fleshly dress?
Before this hour thou must have looked on me;
As men look on old friends I look on thee.
It cannot be. Far-wandering music blown
From heaven thy voice is. In what garden grown
Wert thou, too lovely blossom, in what vale?
Who wert thou ere the flushing cheek went pale?
The quick winds change, and change the fields and sky;
Look on me, look! mayst know me by and by.
II
What hate dispatched thee out of Hell
To mock me? Shapeless, smoky mass,
Thou hideous mist, I curse thee: pass!
Time was when I was welcome to thy breast;
I knew it as the wild bird knows her nest.
Thou liest! never on that fell
The eyes that met not instant blight.
Pass! pass! blot on God's light!
Ay, through the portal whence this hour I stole;
Open thy breast to me, take back thy soul.
Last updated September 07, 2017