by John Vance Cheney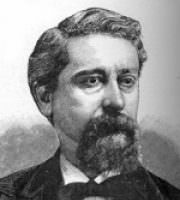 The reddest rose, the bluest violet,
Take them and bray them in a golden jar,
Drip in the clearest dewdrops; nor forget
The wandering odor where old shadows are,
Nor the night-music when the brook is loud,
Nor that far voice when all the silence grieves;
Stir these with motion of the one lone cloud,
Of winds that run along the sunny leaves.
The last, add glances of the moonlit stream,
Pink tremblings from the edges of the dawn,
A dash of rapture only youth dare dream,
And the dear pang it leaves when it is gone.
Pour, now, and drink. Is it the cup of bliss?
Thou canst not, then, remember love's first kiss.
Last updated January 14, 2019