by John Vance Cheney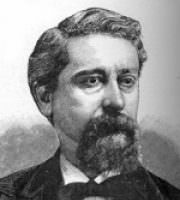 Yon shape, so pitiful, once stood,
The Saul of his proud brotherhood;
Tempest, at last, and length of days
Have mastered; lo, the king decays.
Time was when gravely to his shade,
At noon, the lordlier cattle strayed;
And from his top, at morn, rang clear
The bravest song of all the year.
He sighs, is silent, sighs again, —
" One fate we have, O sons of men!
These empty hands upheld in air,
It is your own last reach of prayer. "
Last updated January 14, 2019