by John Crowe Ransom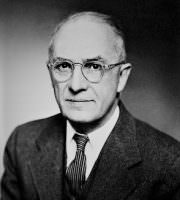 Do not enforce the tired wolf
Dragging his infected wound homeward
To sit tonight with the warm children
Naming the pretty kings of France.
The images of the invaded mind
Being as the monsters in the dreams
Of your most brief enchanted headful,
Suppose a miracle of confusion:
That dreamed and undreamt become each other
And mix the night and day of your mind;
And it does not matter your twice crying
From mouth unbeautied against the pillow
To avert the gun of the same old soldier;
For cry, cock-crow, or the iron bell
Can crack the sleep-sense of outrage,
Annihilate phantoms who were nothing.
But now, by our perverse supposal,
There is a drift of fog on your mornings;
You in your peignoir, dainty at your orange cup,
Feel poising round the sunny room
Invisible evil, deprived and bold.
All day the clock will metronome
Your gallant fear; the needles clicking,
The heels detonating the stair's cavern
Freshening the water in the blue bowls
For the buck berries, with not all your love,
You shall he listening for the low wind,
The warning sibilance of pines.
You like a waning moon, and I accusing
Our too banded Eumenides,
While you pronounce Noes wanderingly
And smooth the heads of the hungry children.
Last updated May 02, 2015