by Joseph Ignatius Constantine Clarke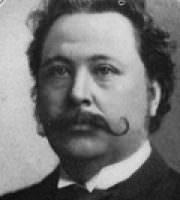 There in the garden of pleasure she lies,
My fond Aphrodite, and weeps
For the lover who fled from the light of her eyes,
For the joy that has sunk in the deeps.
What glory of white fair body she turns
To the blossoms that gem her bow'r,
What lightning of love in her wide breast burns,
And smote me it is but an hour!
I've left her to wail, and my soul is wrung
With an anguish beyond all pray'r.
Where I clung to her, lo, has my dark wrong clung,
Like a snake at the roots of her hair.
O rescuing angel, who guidest my feet,
Is her sin too great for shrift?
Can joy of the pure with my dead joys meet,
And thought of the dead joys drift?
What say ye now to me, gods and men,
Must I on through the desert fare,
And starve with a hunger beyond my ken,
Or go back to my Venus there?
What sayest thou, O Epicurus, thou
The father of fond delights?
What sayest thou, Zeno, the stern of brow,
Whom pain nor scorn affrights?
O sweet Lord Christ, for me what word
Hast thou shaped to cheer my way?
O Mahound, have thy lips in laughter stirred
At my cry in the waning day?
Not any of these whom we fain invoke
Has said to me live or die.
Not a sign from them all. Like a wreath of smoke
They faint in the blue of the sky.
Oh, over in Paradise all is clear:
There are flowers and valleys green,
And its gods and spirits are hovering near,
And lilies are nodding between.
And she is there, and the air is sweet
With caressing her warm white limbs,
And the doves that love her in circles meet,
And coo her their passionate hymns.
O sweet Lord help me to face the dark
Where her eyes no longer shine,
O sweet Lord, out of thy breast a spark
That will slay the chill in mine.
For the angel who guides me never told
How the mad desire would cling,
How cold the notes of his harp of gold,
How coldly the seraphim sing.
Last updated January 14, 2019