by Joseph Ignatius Constantine Clarke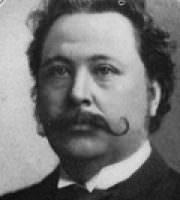 Was there ever a net too fine for Love?
Was there ever a gate too wide?
Are there depths too deep?
Are the skies above,
That lead to the worlds outside,
Too far, or their airy ways too steep
For the daring rush or the onward sweep
Of love in its strength and pride?
One word, my love, and his bastioned hold
Shall bar not my dauntless might,
Nor the men at his gate,
Nor his archers bold,
That watch for him day and night;
Nor moat nor catapult change thy fate,
To lodge in my arms, to be my mate,
And to drink of love's delight.
For I am the lord of a magic mine
That yields nor gold nor steel,
But the flashing ore
Of a metal fine,
To make me a blade so leal,
That, surer than falchion Roland wore,
Or the sword that Achilles fighting bore,
Shall strike my foe to my heel.
Was there ever armor it would not pierce
When grasped in a true man's hand?
Was e'er wall too strong,
Or a fight too fierce?
Can cunning before it stand?
Was ever a battle, whose clamorous song
Was chanted from morn till eve, too long
For the sword of Love's Command?
Last updated June 03, 2017