by Joseph O. Legaspi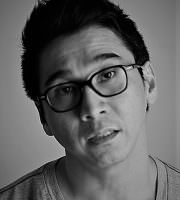 Was it Schiller or Goethe who stored rotting
apples in his desk? The story changes.
 
Joyce wrote with blue crayons on cardboards
lying on his stomach in his white coat.
 
Flannery surrounded herself
with the gazing eyes of peacock feathers.
 
I sit and stare at a snowdrift of pages,
searching for that which disappears.
 
Clad in her mother's fur coat, Sexton
turned on the engine of her awful rowing.
 
Apples, white coat, feathers, fur coat …
Things decay,
 
mushrooming into lore,
mesmeric as a boy's heart suspended
 
in formaldehyde in a jar
Stephen King keeps at his bedside.
 
Against this windowless corner
my desk shrinks as I scribble.
Copyright ©:
Joseph O. Legaspi
Last updated November 23, 2022