by Lance Larsen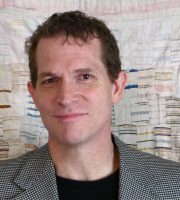 Two musics washing over me, and morning asks,
which loneliness comes closest to the inky
chromatics inside you? How can I answer?
The cricket in the tarantula's cage
chirrs the next world.
Meanwhile, scraps of Chopin float
up the stairs on my wife's trilling fingers
which played me whole
worlds ago, last night, when I was buried in we.
Last updated December 27, 2014