by John Lars Zwerenz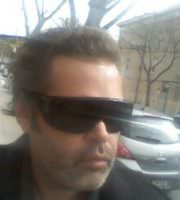 A Gypsy's Life
A gypsy am I, as I rove on the downy dale;
Aside from the taverns, the fields are my only vale.
I drink from my carafe a fairy-fermented brew,
And I dream of fair love, beneath a radiant sky of blue.
I carry within my satchel a book of romantic rhyme;
I wield it when I may, and write as I did of old: -
Of a sable-haired girl, whose gaze is of a raven-gold.
Her dress is white and long, and her hair is of an Elysian clime.
I am struck by visions beside the lane,
On starry October nights, laved by the autumn rain,
And I sleep beneath the myrtles, musing on her kiss.
I have searched for her in ethereal bliss.
I have seen her face in dreams, wandering on the shore,
And the specter of her beauty, passing on the moor.
John Lars Zwerenz
Last updated December 11, 2014