by John Lars Zwerenz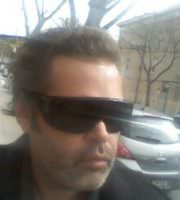 On tepid evenings, when fountains descend like rain,
Tall, ivory statues glitter in the moon glow,
Amid ancient colonnades, where rivulets flow
To ponds of mystic wines, devoid of any pain.
And when I kiss your lips of the sun
In the shade of russet linden trees,
Our hearts unite, and marry as one
In the azure cradle of the scented breeze.
Then your gaze becomes solemn, grave and still,
As all of our sorrow forever departs.
And your eyes begin to speak with ecstasies,
With angelic tears shed from rapturous seas
Imbuing within our bating hearts
The holy hues of rhapsodies.
From:
Cathedrals in the Rain
Last updated May 09, 2019