by John Lars Zwerenz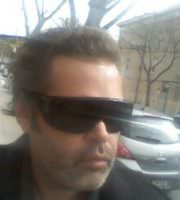 Roving beneath dew dappled trees,
Hand in hand, in a sacred rapture,
Statues and fountains gently capture
The scent of your lips in the scarlet breeze.
Your name is of an angel's languorous song,
And your face is of the azure tinted skies,
Where beauty reigns in my adoring eyes -
Lauding your mane, mellifluous and long.
And in the starry, bejeweled, nascent night,
When the silver moon sobs on the terrace where we stand,
Your kisses yield an ecstasy, borne of glistening, sunlit sand,
Redolent with wine, as billows struck with light.
From:
POEMS BY JOHN LARS ZWERENZ
Last updated June 20, 2016