by John Lars Zwerenz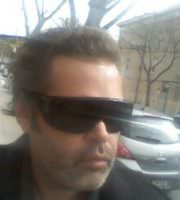 The morn is giving birth
To the dawn- yet to reign, still budding, undone.
Shall you play the earth,
And me the sun? -
Why not? -
Let us go, let us go
Where the blue currents run,
Now hither, now there, now high, now low,
Upon the lot
Of the breeze-caressed hill.
Let me kiss your sweet flesh of the daffodil,
And embrace you in the waking glen.
And then, let me love you
In the succulent vineyards,
In the blooms of the hazy, yawning garden.
And there, beneath the greenish hue
Of the quickening firmament,
Astonishing and bright,
Where lovers and bards
Succor in the sunlight
Nipples of crimson, lips of wine,
Beneath the fleecy willows bent,
Let our bodies unite
In the rapture of the sunshine,
Where sure delight
Is yours and mine.
And the approaching rain
Shall find us- twain
In spirit and in flesh,
Indeed as one-
As the gray clouds mesh
With the scarlet sun.
From:
POEMS BY JOHN LARS ZWERENZ
Last updated October 04, 2016