by John Lars Zwerenz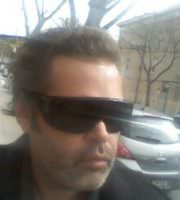 My maiden fair walks slowly beside me;
She wanders with me, hand in hand,
Upon the grassy, gilded, forested land,
By white colonnades and the azure sea.
My loveliest love, of a timeless age,
Brilliantly youthful, she shines like the sun.
Her long, raven mane, wavy, undone,
Bestows rhyme upon my eyes, page after page.
For her verses are of the sobbing stars;
Her lips are of the joyful moon,
Glistening like a rivulet's boon
To the sound of the woodland's soft guitars.
And when the nascent evening solemnly glows
Upon the purple ocean and the marble square,
Upon her tender face, her sable hair -
Her heart turns to fire each river that flows!
From:
POEMS BY JOHN LARS ZWERENZ
Last updated June 20, 2016