by John Lars Zwerenz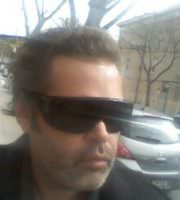 To A Dark Eyed Lady
I ventured out in the dew at dawn,
To the florid countryside,
Walking on an emerald lawn,
Dreaming of a youthful bride.
There brooks of blue,
Lit by the sun,
Ran flowing through
Gardens and glades.
One by one,
In the scented boon
Of amaranthine shades,
I discovered at noon: -
Forested promenades!
I came upon a marble square,
Where a princess roved, with sable hair!
(She was dressed in ancient style.)
There were rhapsodies in her diamond eyes,
And moonbeams in her smile.
Then the rays of the amber sunlight,
Ascended with a redolent breeze,
As our empassioned sighs
Reached their flowery height
In the canticles of the turquoise skies,
In the cello of our ecstasies.
John Lars Zwerenz
From:
New Poems by John Lars Zwerenz
Last updated March 12, 2017