by Robert Laurence Binyon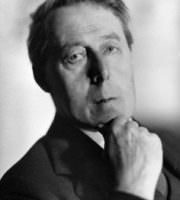 Where the honeysuckle blows
In the summer night, entwined
With fresh leaves of the rose,
Greenness in gloom divined;
Sweet breaths in a mystery conspire
My soul to ravish in swift desire
Yet I, as the hidden grass
I roam, within me bear
Joys that all these surpass,
And taste diviner air.
I love, I am loved: ah, nothing was ever sweet
As the word my lips to my heart repeat.
To take into my arms
The body of my bliss;
Charm beyond earthly charms,
Thought beyond thought were this.
My bliss not Earth in her ring could hold,
Nor Night, that doth all the stars enfold.
It clothes me and bathes me round:
I find no end nor measure.
I sink, I am lost; drowned
In the wonder and depth of pleasure.
O joy of love, could I plumb with a rod the sea,
My tongue might tell the untellable sweetness of thee.
Last updated January 14, 2019